Egerton student Edmond Ruto pleads temporary insanity when he killed his girlfriend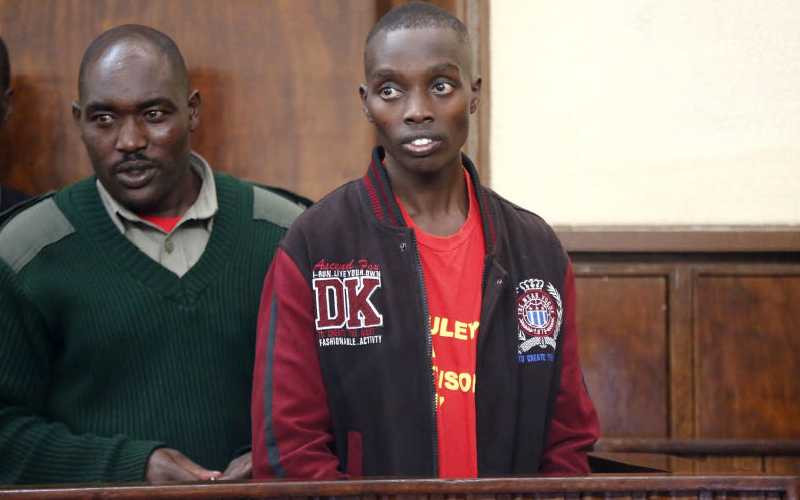 A 25-year-old man accused of killing a fourth-year student at Egerton University today pleaded temporary insanity when he stabbed his girlfriend to death on February 19, 2018 at Njokerio Estate in Njoro , Nakuru.
Edmond Ruto, then a third-year economics and statistics student, killed Cynthia Chelang'at, then a fourth-year agricultural license student.
Ruto told Nakuru High Court Judge Joel Ngugi that Chelang'at's death was his fault and admitted he was angry when he stabbed her six times.
"I am the cause of everything and it hurts me because my actions have caused unimaginable pain to both Chelangat's family and mine. I am sorry and I regret everything," Ruto pleaded.
Since being held in Nakuru GK prisons on March 2, 2018, Ruto said he has learned to manage his anger.
Over the four years, Ruto said he received training in anger management issues, physical and mental health, and psychiatric care. He produced a certificate.
"If I knew then what I know now, maybe Chelang'at would still be alive today," he said.
He pleaded with the court to give him a non-custodial sentence of three years so he could use his skills to help other students in similar situations. He said he had six siblings and parents who depended on him because he was the only child who excelled in education. He is also a first offender, he pleaded.
Additionally, Ruto said his family approached Chelang'at's family this year and held talks on how to hold a smudging ceremony and forgive him. The ceremony involves buying a cow and bringing it to Chelang'at's family.
Noting that the two were not married, Ruto's family had to speak to the Chelang'at clan elders.
However, speaking on behalf of Chelang'at's family, attorney Kipkoech Ng'etich said the family still wanted a tough sentence against Ruto.
He said no ceremony was held and Ruto's release was not the family's wish.
"Ruto's family had time between 2018 and 2021 but did not ask for forgiveness until 2022. Their action is not in good faith," Kipkoech said.
Kipkoech told the court that Chelang'at was brutally killed by Ruto, someone she trusted.
"The deceased was stabbed in the neck, stomach and lower limb," Kipkoech said.
Additionally, Kipkoech wants the court to remind people in trusting relationships that their partners are not slaves.
"To send a message to men and women who use their spouse as a punching bag, the court should impose a severe sentence on the defendant, as an example for others," Kipkoech said.
He reminded the court that Chelang'at was an only child of a traumatized mother, who cries every day as she sells pineapples and who is still fighting for justice for her daughter.
"The world should know that men and women are not instruments in relationships, but human beings whose dignity should be upheld and respected," Kipkoech said.
The court will sentence Ruto on September 29.